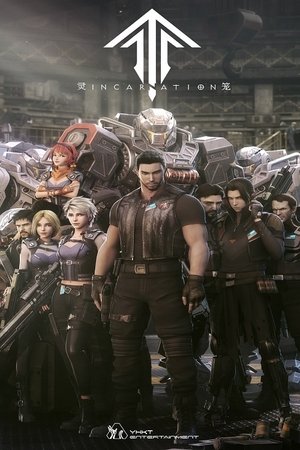 Spirit Cage: Incarnation
灵笼:INCARNATION
Overview
In the near future, the human world is already overcrowded, and the move to the Milky Way and the search for a new home is imminent. Just as everything was proceeding in an orderly manner, the moon phase changed, and the earth beneath it broke out for decades, with dramatic geological changes, and human beings left little in the catastrophe. The land gradually returned to calm, and people re-entered the familiar and unfamiliar land from the ruins and abyss. Are we used to do everything that dominates us? Is it still the master of this world
Cast
Wei Zhong
Dian Tao
Dawei Liang
Yuantao Li
Seasons

Specials

Season 1
INCARNATION 灵笼 (2019)
Watch Online Download Streaming Donghua Chinese Anime Ling Cage, INCARNATION 灵笼 (2019). In the future, an unprecedented geological disaster has destroyed human civilization. Earth creatures are almost extinct. A floating fortress in the old world survived this catastrophe because of its particularity. The survivors in the sky, for it. Named "the lighthouse", meaning "to illuminate the last future of mankind."
However, after the catastrophe, a new biological system gradually emerged on the fragmented land. The strange plants shone with lasers under the night light, and the ferocious monsters hunted humans everywhere; the lighthouse man overlooking everything regarded the aerial city as The last shelter.
In order to deal more effectively with the threat of the end of the day, the cold and harsh rules of survival are born in the lighthouse, and human beings can only be intensified in the distortion and suppression. At the same time, the lighthouses kept floating and needed constant energy supply. Under the threat of increasing ground, they organized a combat squad called "The Wilderness". The "hunters" are trained to excel and have the ability to bring back key materials for energy, medicine, and food from the ruins of the ground. However, even a powerful "hunter" has never dared to go deep into the mysterious ecology and explore the truth of everything.
Donghua Info.
| | |
| --- | --- |
| Other Names: | Spirit Cage: Incarnation, Ling Long: Incarnation, Ling Cage. 灵笼: INCARNATION (2019) |
| Producers: | Bili bili, YHKT Entertainment |
| Country: | China |
| Episodes: | 13 |
| Status: | Ongoing |
| Release: | July 13, 2019, to ? |
| Genres: | Actions, Adventure, Sci-Fi, Mystery, Horror |
Rating!
[Total:

6

Average:

4.3

]