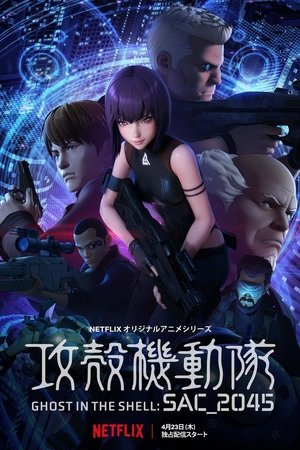 Ghost in the Shell: SAC_2045
攻殻機動隊 SAC_2045
Overview
In the year 2045, after global capitalism has defaulted, Japan's elite Section 9 begins conducting covert cyber operations.
Cast

Atsuko Tanaka
Akio Otsuka

Kouichi Yamadera
Yutaka Nakano

Toru Okawa

Takashi Onozuka
Taro Yamaguchi

Sakiko Tamagawa
Osamu Saka

Megumi Han

Kenjirou Tsuda
Megumi Hayashibara
Seasons

Season 1
Ghost in the Shell: Stand Alone Complex 2045
Watch online Download Streaming Anime Ghost in the Shell: Stand Alone Complex 2045. In 2045, after an economic catastrophe is known as Default Global Synchronization, rapid developments in AI pushed the world into a state of "Sustainable War".
However, the public is not aware of the threat that AI has against humanity. Full-body cyborgs, Major Motoko Kusanagi, and Batou command their former members of Public Safety Section 9, now hired mercenaries traveling to the destroyed American West Coast.
This land is full of opportunities for the commander and his team, they have taken advantage of improved cyber brains and combat skills since they worked in Section 9. However, things got complicated with the appearance of "post-human" ", who had extreme intelligence and physical strength. The members of Section 9 are back together to face this new threat. Source: MAL
Anime Info:
| | |
| --- | --- |
| Other Names: | Koukaku Kidoutai: SAC_2045, Ghost in the Shell: SAC_2045 |
| Producers: | Netflix |
| Country: | Japan |
| Episodes: | 24 |
| Status: | Ongoing |
| Release: | Apr 23, 2020, to? |
| Genres: | Action, Military, Sci-fi, Mecha |
Rating!
[Total:

1

Average:

5

]